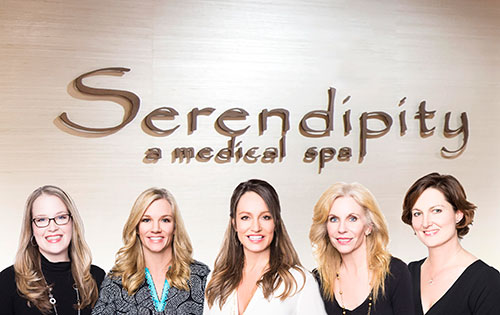 The Feel of a Spa...The Care of a Physician
Give Us An Hour and We'll Give You Back Years
Serendipity provides the latest advances in the art of facial and body rejuvenation – blending the pampering, soothing elements of a spa with the safety and assurance of superior medical treatment.
Our professionally qualified staff is constantly trained in the latest cutting-edge rejuvenation technologies, while integrating them successfully into our practice.
The enduring mission of Serendipity is to assist clients in achieving their desire for lifelong beauty, health and wellness by utilizing the most sophisticated, advanced treatments, products and services available in the industry.
Testimonials
"Serendipty is a wonderful spa. I love the regimen that is carefully and thoughtfully designed for me. I always experience the results I expect both physically and emotionally. I'm always tended to an by experienced and caring staff on every level and appreciate having such a special and supportive medical spa in my community. Thank you!"
-- Valerie Mulligan
"My experience at Serendipity Medical Spa was great!! Everyone was so friendly and helpful. This was my first experience with injectables and my area of concern was my lips. I wanted them defined and the slightest bit fuller. Dr. Leaver-Williams did a great job! She took the time to explain the treatment and made me feel comfortable. She understood what I wanted and I love the results! Very natural looking! I highly recommend Serendipity!"
--~ Kristalea Sheaffer
"The entire team was helpful, professional, quick to respond to all my questions and made me feel and look great. This was my first experience with any type of medical spa product and I wish I had visited Serendipity years ago. My treatment included botox, small amount of filler and a dual fraxel laser. My skin looks great! I am returning for a second dual fraxel laser treatment soon and look forward to my visit. ."
--Kim Tripp
"I have gone to Serendipity Medical Spa for treatments over the past several years. The service has always been top notch and the quality of the work performed has been spectacular. My aesthetician has always outlined the procedures for me and been able to answer my every question. I feel well cared for as they are true professionals and I have been extremely pleased with my results. The receptionist always calls me before my scheduled appointment which is great with my crazy schedule. I love my monthly visits and recommend the spa to all my friends."
--Rebecca Kerns
"I had a fraxel laser treatment about a month ago at Serendipity Medical Spa, and I am so very happy with the results. My skin glows, fine lines are finished and dark spots are gone. I am 64, and I have been told my skin now looks like I I'm in my 40's. My skin was in good condition prior, as I have been using Obagi for year's. I do receive so many complements. I have been told by Trish at the Spa that the collagen will continue to renew for about 6 months. This first treatment was to remove dark spots, In a few months I am scheduled for a second treatment. I cannot wait. I plan to have a treatment as recommended by the Spa, the 2 weeks of mild discomfort is well worth the beautiful skin."
--Sherrie Mikrut
*Individual Results May Vary


Serendipity Medical Spa 23 Main Street, Suite #102 (Palmetto Office Suites) Hilton Head Island, SC 29926
Main Office : 843.342.2639 | Fax : 843.342.2609